On Instagram, when uploading a photo, the default setting is a square layout. Having a square space for your photo is fine, if the photo you are trying to upload fits nicely in this box. 
If you have a portrait photo (vertical photo) of your millinery, it will need to be resized or some of the image will be cut off.
Luckily, Instagram allows you to resize the image by placing two fingers on your phone screen and pinching them together. This way you can post your image as a portrait photo, allowing more of the hat to fit in the screen.
Luckily, there are apps you can use to help you resize the photo so it fits nicely in Instagram. My favourite app to use is called 'Snapseed'. It is free to download from the app store.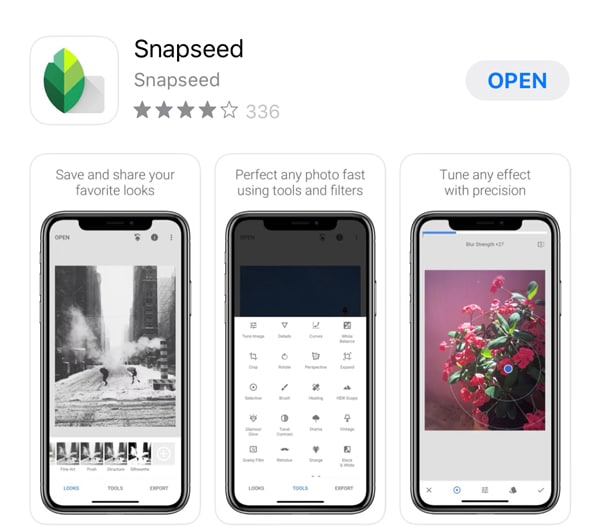 Once you have installed the app, here's how you use it to resize a photo. 
On the top left hand side tap on 'open'.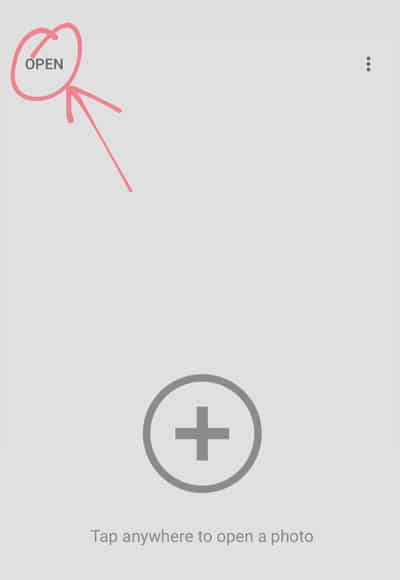 Select the photo you wish to resize from your camera roll.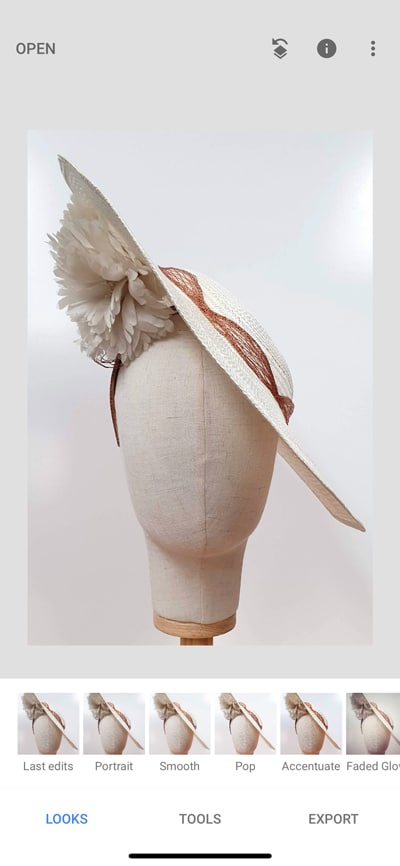 Tap on 'Tools' then 'Expand'.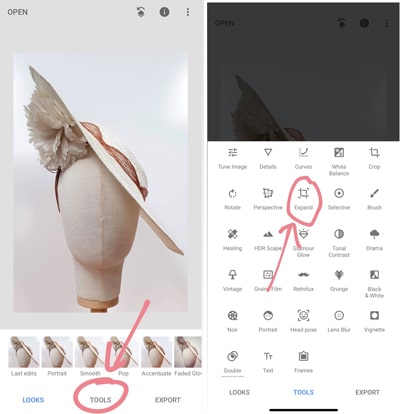 Use your finger to slide the left side of the photo out a few millimeters. Then do the same for the right side. You'll notice the background is a little grid which will help you keep the expanded areas even.
The aim is to make your photo resemble a slightly rectangular square, as this will fit the whole photo in Instagram.
With the extra space you have added to each side, you have three options of either a 'smart', white or black background colour.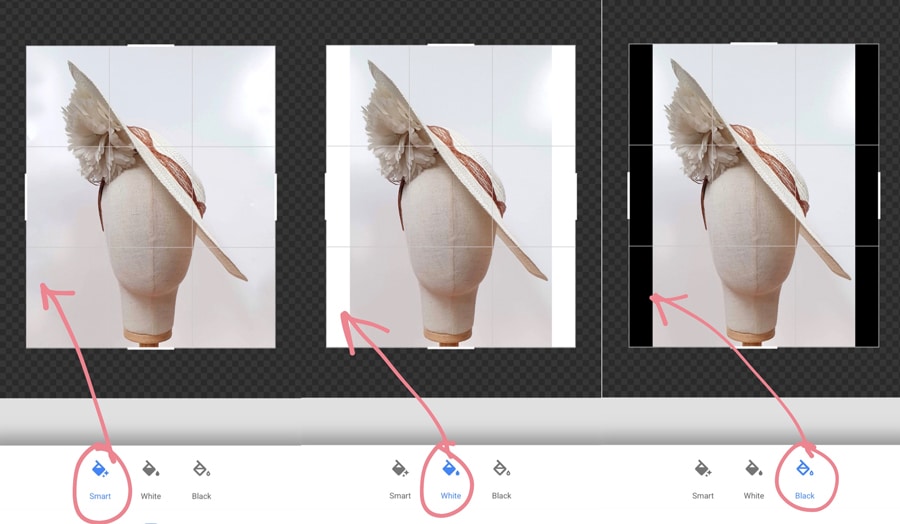 My favourite background is the 'smart' option, as this mimics the background that is already on the photo and makes the added space not noticeable and clean to look at. 
This option doesn't always work though, depending on what your background is. If the background is quite busy and not a plain one, then the mimic option can look very odd. And if your hat is too close to the sides then you will notice some of the hat gets repeated in the background. Here is an example: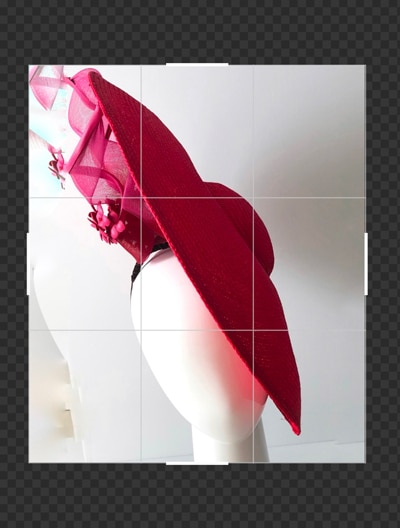 In the case the 'smart' background doesn't work, you can use 'white'. The white background looks clean cut and fresh. Of course you can also use black, if this is inline with your instagram feed and doesn't look out of place or overpowering.
Once you are happy with your background, on the bottom right hand of the screen tap on 'Export' and then 'Save a copy'.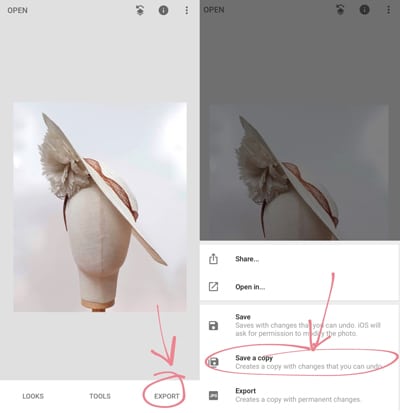 Your new photo will be saved to your camera roll and you can then go back into Instagram and post your new resized photo.
I love to have the first photo of a hat showing the whole top to bottom of the hat and the mannequin as this is more visually appealing. You can add multiple photos to your instagram uploads which can then include close up details of your hat and its features.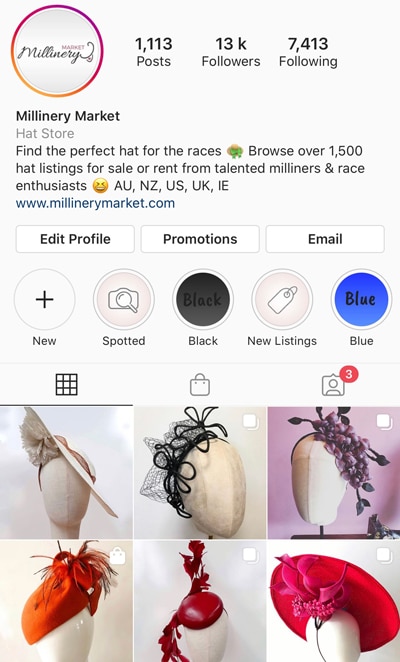 Note even if you post a tall image, it will be cropped to a square on your feed as this is the standard layout, but in the newsfeed and once someone opens the image, it will be the tall portrait image.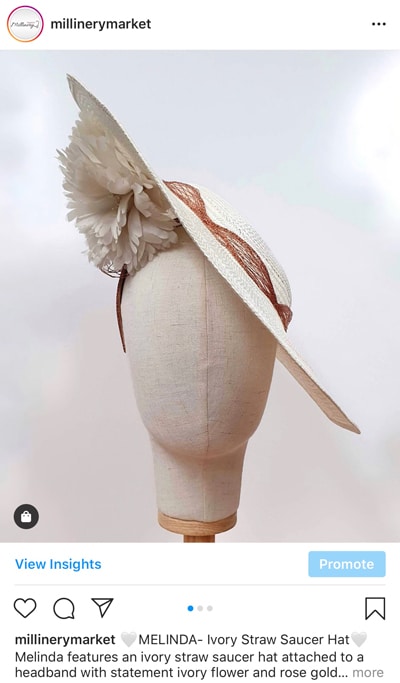 And that is how you resize an image for your Instagram feed. I hope you found this post helpful.
Pro tip: If you prefer to edit your photos in Photoshop, you can achieve the same thing as the 'smart' expand feature in Snapseed by extending your canvas, selecting the newly added area and then going to 'Edit > Fill' and choosing the 'Content Aware' option. Here's a post that gives an example using Photoshop.
Do you have any tips or apps you use to post beautiful millinery photos to Instagram? Share them in the comments below!
Leave a Comment...