When preparing for a race day, I often have my outfit ready first and my millinery choice comes last. Whatever the outfit, there are always a variety of hat shapes and colours that would suit, but simply buying a few options online, then selecting a favourite just isn't viable (unless you're a Kardashian). You really need to know how it's going to look on you, before handing over your money.
Well thanks to technology and augmented reality, this super exciting concept has become possible! For the last few months I have been working to bring you the 'Millinery Market Hat Filters' which will allow you to, virtually, 'try on' a number of different styles of millinery along with a range of colours!
I am so excited to share this with you all, as I think it is going to be a vital tool in planning your race day outfits.
The Millinery Market Hat Filter (MMHF) can be used through the Instagram or Facebook App. It allows you to 'try on' 5 different hat shapes including the Boater Hat, Percher Hat, Wide Brim Hat, Crown and Headband. For each hat there are 16 colours that you can flick through and try.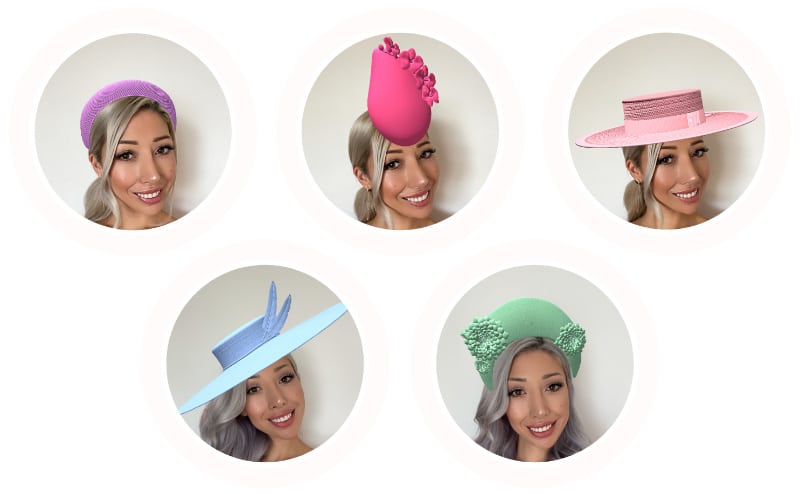 Update 12th Aug 2021: We have just released 6 new hat shapes; face hugger, saucer, pillbox, turban, beret, top hat.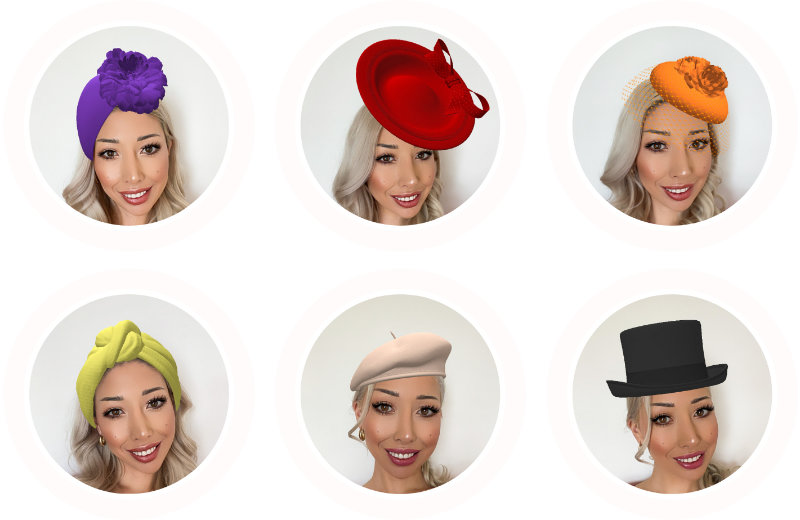 How to Use
Using the the MMHF is simple. First, open either Instagram or Facebook on your phone. Then, open up your story camera and select 'search'. Type in either 'Percher Hat', 'Boater Hat', 'Headband', 'Crown', 'Wide Brim Hat' or 'Millinery', which will bring up the filter. The first time you use it, you'll have to search for it, but you can save it once it's been opened to your filters and the next time it will appear right away.
Another way to find the filters, is to head to the Millinery Market Instagram page, click on the little smiley face which can be found beside tagged photos. This will bring up all the hat filters available.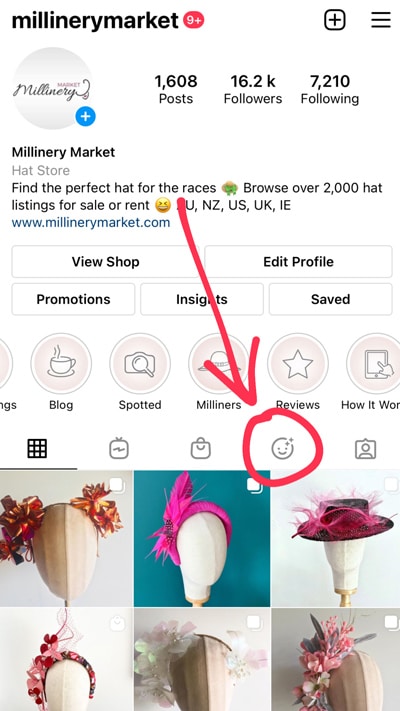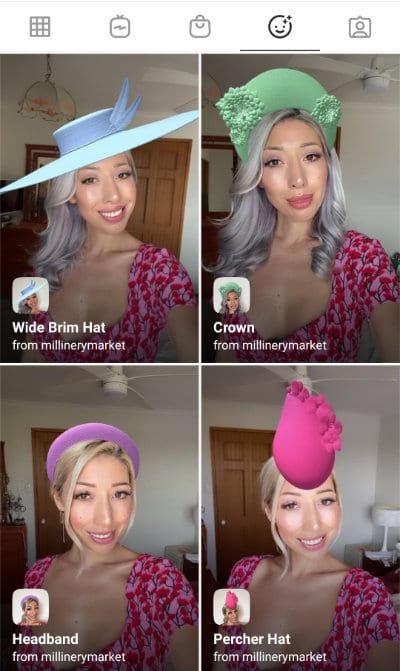 What Hat Shape Suits You
Have a play around with the different hat shapes. This is a fun way to see what hat shapes you like and what suits your face shape. Use the front facing camera to get a close up view of your face and the hat.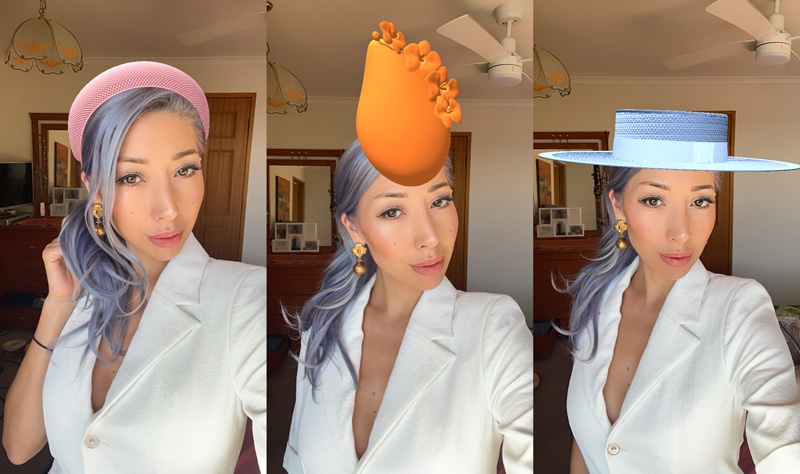 Dress Up and Try On a Hat
When you have some time set aside, try on your race day outfit with all your accessories (if possible) and head to a full-length mirror. Open the app and select a hat filter to try first. Switch to the rear facing camera. Tap through each of the colours to see how they will look with your outfit. Strike a pose and take a photo.
You can save your photos by tapping on the 'save' button which is located at the top of the screen and looks like an arrow pointing down. This will be handy to refer back to later.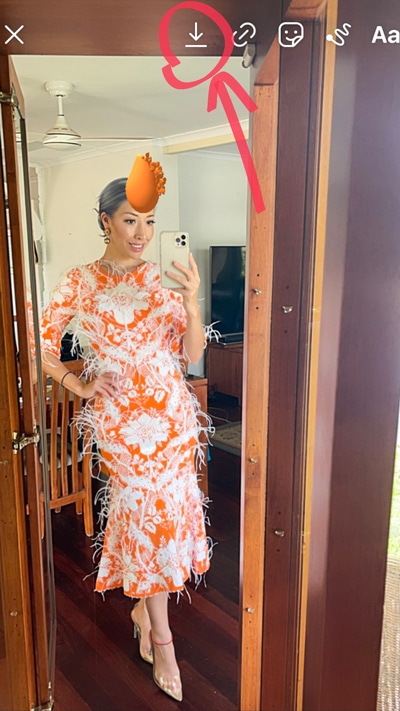 Go through all the different hat shapes, taking photos and saving them. You can even post your photos to your story or feed!!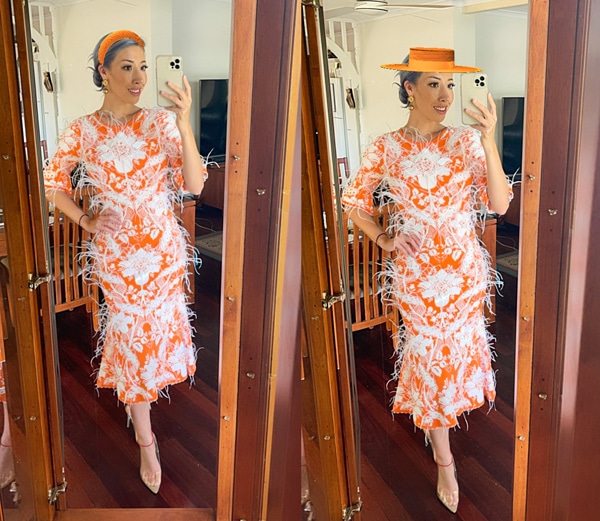 Another useful way to use the filter is while you are at the shops trying on different outfits. Use the mirrors in the dressing room to also 'try on' a variety of hats before you settle on a purchase.
I love going through the different hat colours to see if anything catches my eye and works well with an outfit. It really does make the process of choosing a hat a lot easier.
Background Change
Another feature of the filter is a choice of five different backgrounds.
This feature is handy if you are somewhere with a bit of clutter. I'm not saying my bedroom is always messy… but if you want to be able to see your outfit and hat clearly, you can use the aesthetics of the backgrounds.
Virtual COMPETITION
To celebrate the launch of the Millinery Market Hat Filters, we hosted a dress up competition! To enter, ladies were asked to raid their wardrobes and put together a fabulous racing fashion outfit and complete it with a Millinery Market Hat Filter hat!
There was a winner chosen from each of the countries AUS, NZ, USA, UK & IE. Our judging panel was made up of five milliners who kindly donated a prize from each country…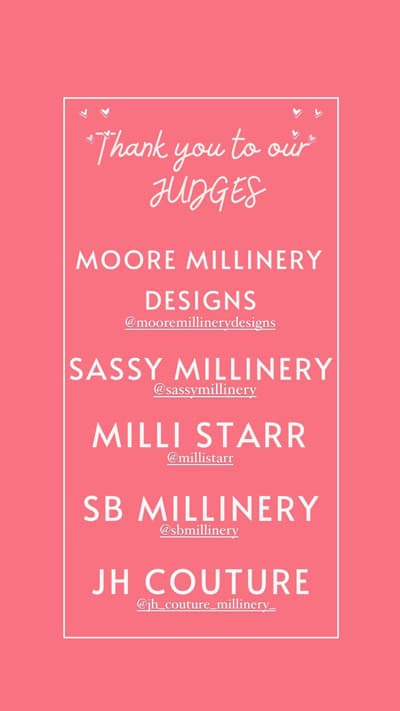 From Australia, Moore Millinery Designs donated a gold sinamay bandeau with her signature lace 3D flowers. For New Zealand, Sassy Millinery donated a beautiful white face hugger with black and white leather flowers and veiling.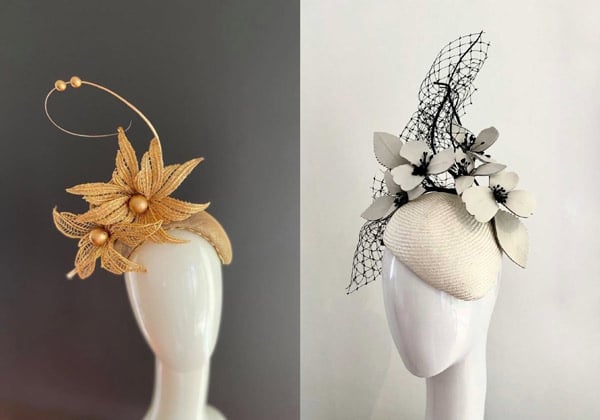 Milli Starr from the USA donated a stunning jade green percher with feather spray, crinoline veil and laser cut wooden medallion with vintage rhinestone button. The UK prize was donated by SB Millinery, an adorable pink button shape sinamay hat with a blooming flower and feather spray. From Ireland we had JH Couture Millinery who kindly donated a lovely powder blue hat in a teardrop shape with blue, green and purple flowers.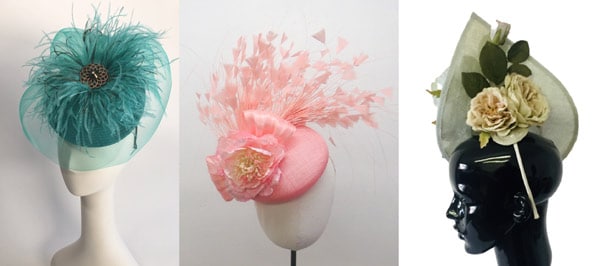 We had so many amazing entries. It was wonderful to see how ladies styled the different hat filters to suit their outfits.
Our competition winners were…
Australia Winner
Holly completing her floral dress with the Crown Filter in cream. The judges said "a divine dress with perfect headwear choice to complement the outfit. An outfit that would work beautifully at a race day or wedding."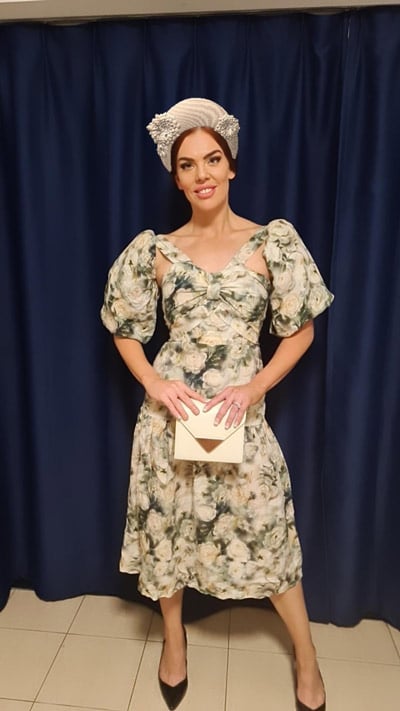 New Zealand Winner
Anna accessorised with the black Wide Brim Hat Filter. The judges said "Striking dress and accessories, keeping it stylish with a wide brim hat."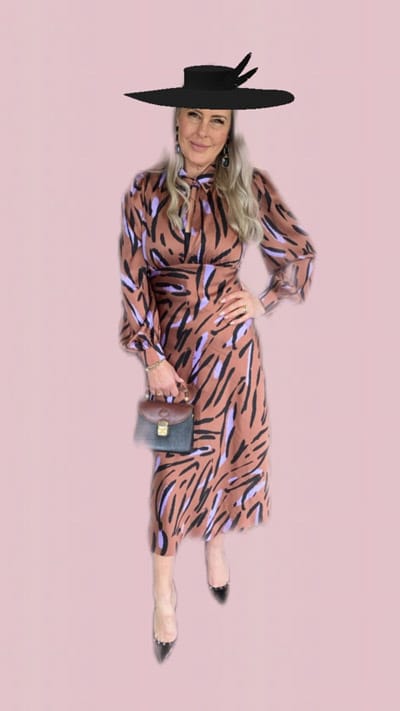 USA Winner
Ellie finished off her lovely floral dress with the Crown Filter in Cream.  "Beautiful dress, love the asymmetrical frills, the crown is a great choice with this outfit."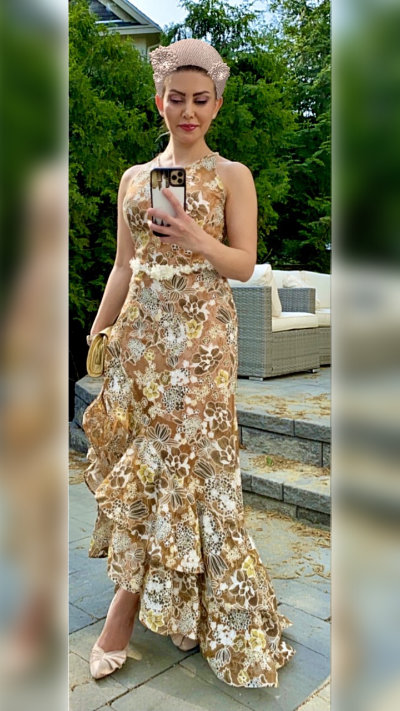 United Kingdom Winner
Gilly chose the blue Wide Brim Hat Filter to match her blue and white polka dot dress. The judges said "A fun outfit with a bold print, the Wide Brim Hat Filter balances out the full skirt beautifully."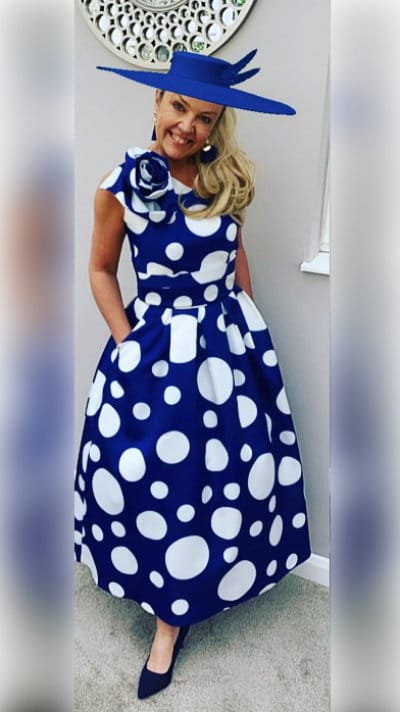 Ireland Winner
Louise chose the Percher Hat Filter in Red to match her red accessories. The judges said "A fabulous and fun colour combination of black, white and red. The Percher is the perfect hat for this outfit."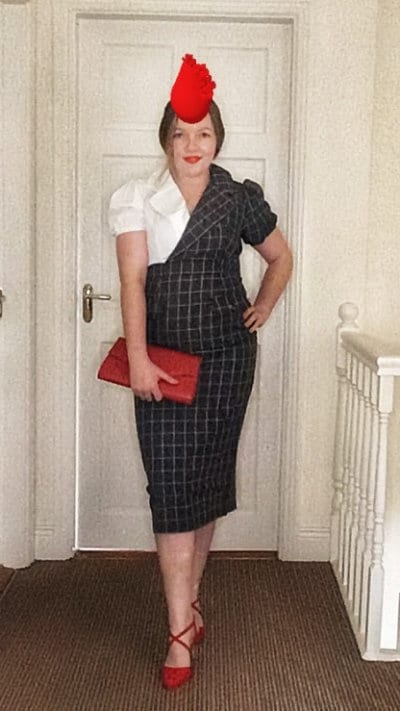 Here are some honourable mentions for other great entries we received from around the world …
We would love to see you experimenting with this new feature and use it to plan your next race day outfit. Be sure to tag @millinerymarket in your photos for a chance to be featured on our Instagram account. Have fun!
Leave a Comment...