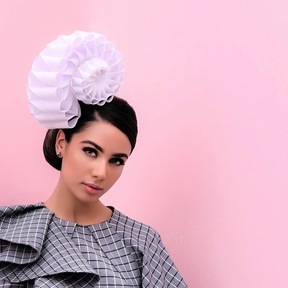 Angie Jackman is a multi award-winning milliner based in Central Victoria. She has more than a decade of industry experience. While passionate about traditional construction, her style is progressive and daring and her work, known for its drama. Often influenced by a minimal and refined Asian aesthetic, Angie Jackman Millinery has international reach and is recognised for its technical proficiency and impressive architectural structure. Pieces range from $150-$600.00.
Awards:
2019 Millinery Association of Australia student Design Award winner.
2018 Myer Millinery Award 1st Runner Up
2018 Bendigo Cup Millinery Award, and Millinery Runner Up.
2018 Hat Blocks Australia Millinery Competition, Race Wear division + Overall Grand Prize Winner
2018 Albury Gold Cup Millinery Award
2018 London Hat Week Top 30 + Press Preview selection
2017 Bendigo Cup - Lady of the Day Award + Millinery Award Runner Up
Features:
The Hat Magazine, Hatlines
Elle Magazine, Harpers Bizarre, Herald Sun, Vouz Magazine (UK), Eclipse Magazine (UK)
No followed people