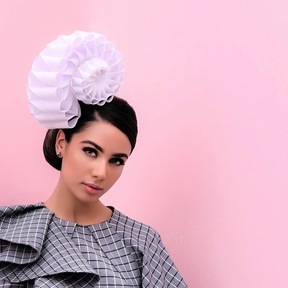 Angie Jackman is a multi award-winning milliner based in Central Victoria. She has more than a decade of industry experience. While passionate about traditional construction, her style is progressive and daring and her work, known for its drama. Often influenced by a minimal and refined Asian aesthetic, Angie Jackman Millinery has international reach and is recognised for its technical proficiency and impressive architectural structure. Pieces range from $150-$600.00.
Awards:
2020 Myer Millinery Award 1st Runner Up
2020 Hatalk International Millinery Competition- 4th place
2019 Millinery Association of Australia student Design Award winner.
2018 Myer Millinery Award 1st Runner Up
2018 Hat Blocks Australia Millinery Competition, Race Wear division + Overall Grand Prize Winner
2018 Albury Gold Cup Millinery Award
2018 London Hat Week Top 30 + Press Preview selection
Features:
The Hat Magazine, Hatlines
Elle Magazine, Harpers Bizarre, Herald Sun, Vouz Magazine (UK), Eclipse Magazine (UK)
No followed people