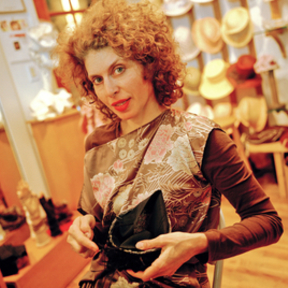 Lisa Shaub has been making fine hand-made hats for over thirty years with twenty years in her own hat shop in New York City . Her speciality is feminine designs in lovely hand dyed straw with silk flowers. The shapes are simple and beautiful, but with her unusual twist. She can dye to match and create hand made flowers in any color. Custom orders and rush welcome!
She has been recognized for her store and work to be included in New York Magazine for their"1300 Best Stores of New York City" issue for over nine years, Time Out's "Best Hat Shops", as well as the prestigious Zagat guide. She has been featured in Vogue, Elle, WWD, Time Out New York, W, and The New York Times among others.
Her celebrity clients include Taylor Swift, Beyonce, Jessica Biel, Brittney Spears, Brooke Shields, Aaron Neville, Clare Danes, Audrey Tautou, Megan Morgan (wife of Tracy Morgan), and now Mary Ellen Bonomo, the owner of "Always Dreaming", the winner of the 143rd Kentucky Derby.
Lisa studied millinery with Ann Albrezio at FIT. She is a founding member of the USA based Miliners Guild, and has served as Vice President for three years and as a board member for ten years.
No followed people