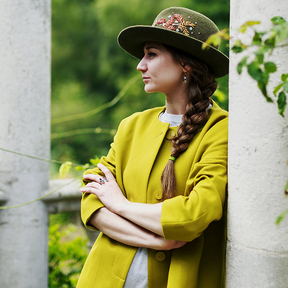 Elena Shvab is a London-based milliner and textile designer of Russian- Israeli heritage. Taking inspiration from nature, history, contemporary art and modern culture she continually working with bold shapes and experimental textile techniques to create dramatic silhouettes that she handcrafts in her studio.
After graduating with a BA Textile Design at the University of Arts London, she pursued the internationally renowned HNC in Millinery at Kensington and Chelsea College. With apprenticeships at acclaimed milliners such as Edwina Ibbotson and Piers Atkinson she honed her skills further, and eventually set her own label.
Elena Shvab has received an Honorary award at International Hat Design Competition, China. Her work to date has appeared in numerous publications such as Tatler, The Guardian, the Hat magazine, Tantalum, A2Z, and Ellements to name a few.
She creates two seasonal collections a year. Alongside these main collections, she offers a bespoke commissioning services for private clients around the world. Some of these works can be spotted at major events like the Royal Ascot and the Melbourne Cup Carnival. She also provides millinery workshops and classes.
No followed people