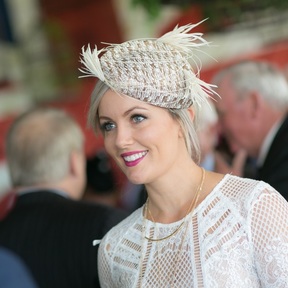 Jennifer Constantinou, is a professional milliner based in Brisbane, Australia. Having learnt the skills of dressmaking and needlework from a young age, she developed a love for the art of millinery while completing a Certificate IV in Millinery at Metropolitan South Institute of Tafe. Jennifer was awarded a Millinery Award at MSIT and is now a member of the Millinery Association of Australia.
The Meg + Wren collection comprises a high quality range of bespoke and ready-to-wear racewear and bridal millinery. Constructed only from the finest materials, pieces are individually designed and meticulously handcrafted to create classically elegant headwear.
Our headpieces have been worn by Royal Queensland Show FoTF Presenter Lyndsay Douglas, Channel 7 Presenter Kendall Gilding and Channel 7 House Rules contestant Danielle Russell. Meg + Wren has also paraded in the Royal Queensland Show Natural Fibres Fashion Parade and placed as a Finalist in Brisbane Fashion Month Creative Competition and Fashion on The Field events.
Visit us at www.megandwren.com
No followed people