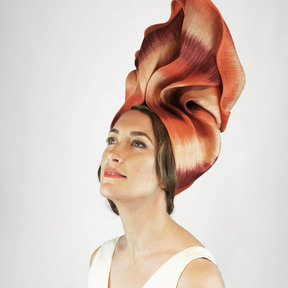 Meghan Briton is an Australian designer from the beautiful island of Tasmania. Her training as a pattern cutter and garment technician have led her to have a unique vision for millinery, while still upholding the importance of traditional and quality finishes.
Meghan holds a Bachelor of Design from the Whitehouse Institute of Design in Sydney, Australia, as well as certificates in Patternmaking and Construction.
After many years of experience creating custom garments for clients both privately and through employment in womens wear and bridal, Meghan then spent years employed in London as a couture milliner for internationally renowned designer, Stephen Jones. In this role she was privileged to create pieces for many of the world's greatest design houses such as Dior, Marc Jacobs, Celine, Azzedine Alaia and many more, along with countless high profile private clients.
Meghan is now creating millinery pieces for her eponymous label. Her design aesthetic is minimalist with a subtle mix of both Australian and British influences, with styles appropriate for events such as Royal Ascot, the Melbourne Cup and formal weddings and events.
She uses high quality materials and pride is taken to ensure each piece is finished to the highest standard. Meghan is currently creating couture pieces and a range of RTW pieces at a lower price point. While currently on part time maternity leave, this seasons numbers will be limited, but as always it is about quality not quantity!
No followed people