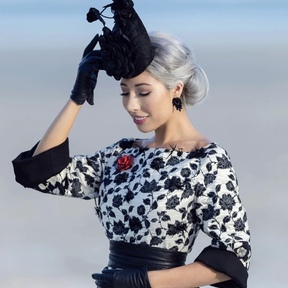 Hi There!
I'm Milano Imai, I'm a racing fashion blogger and the founder of Millinery Market.
If you'd like to hear the story of how Millinery Market was created, check out this blog post:
www.milanoimai.com/creation-of-millinery-market
I entered my first Fashions on the Field competition in 2011 and have been hooked ever since. I live on the Gold Coast and attend race days at the Gold Coast Turf Club and Doomben Racecourse in Brisbane.
Over the years I've built up quite a collection of beautiful hats as you can see in my hat listings. I enjoy seeing my hats being put to good use and making appearances all over the country. I'm saving up my rental fees to buy my next bespoke millinery purchase for this year's Spring Carnival :)
Apart from racing fashion, I enjoy spending time with my beautiful dog Boof, going out for Mexican food with my friends and eating salted coconut mango gelato (it's my weakness).
If you have any questions about my hats or about Millinery Market in general, shoot me a message.
Chat soon,
Milano Imai
7 followed people