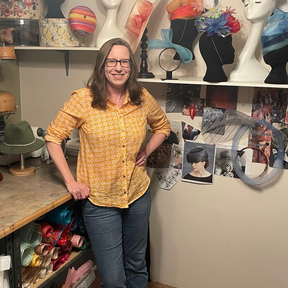 Amy got her start in millinery with Hat Academy, receiving the Hat Academy certification in 2017 before attending the millinery intensive course at the London College of Fashion in 2018. Located in the rural Redwoods of Northern California, she shows her designs regularly in London Hat Week and Melbourne International Millinery Competition and has won awards and grants for her work locally. Amy is also a contributing writer and tutor for HaTalk eMagazine.
Her style is artistic yet wearable, with emphasis on sculptural design. Her work features high attention to detail and employs innovative techniques with wide variety materials. She enjoys developing new approaches to traditional and contemporary materials, and continuously expanding her knowledge of the ever-progressing millinery industry.
To support her desire to create one of a kind, highly detailed designs, Amy formed the millinery supplies business Humboldt Haberdashery of which she is the owner and operator. She is also a small business consultant and educator in eCommerce procedures.
No followed people