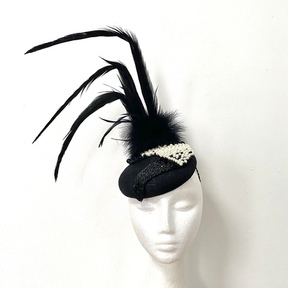 Hi. Im Carolyn and I am Little Brown Cat hats and millinery. I live and work in Sydney Australia.
My work is fairly eclectic as I love to play with styles but mostly my hats for occasions have a vintage flair to them. I don't make the same hat exactly again as I like people to feel that they have an exclusive, however I will make something similar using a particular element as a base to start with. This way you won't see someone else wearing your hat. I also do a range of casual hats that are a little different to most. I studied millinery at Ultimo TAFE and also design centre Enmore and continue to learn through private courses and I feel will continue to do so. You never stop learning.
If you wish to look at more of my work please find me on instagram @littlebrowncathats where you will also find a link to my website.
If you buy one of my hats please tag me on instagram. I love seeing how people style them to really make the look their own. Please if you love it leave me a review.
We should all wear more hats!
No followed people