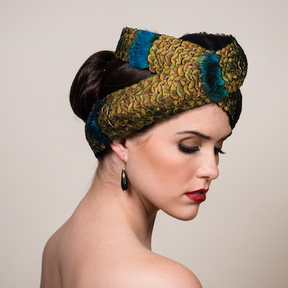 Laura Del Villaggio earned a Certificate in Millinery from the Fashion Institute of Technology in New York in 1999 and her millinery business, Milli Starr, was established in Austin, Texas in 2004. Milli Starr is known for exquisite craftsmanship and a vintage-inspired elegance that complements a modern wardrobe. Original hats have been spotted in print publications, on the runway, stage, and screen, and at horse races around the world.
HATalk magazine (UK) awarded Laura 2nd place and 3rd place prizes in their international millinery competition in 2019 and 2105. Both years, she was the only participating American milliner to be recognized.
She is an active member of the Milliners Guild (USA) and is currently serving on its Board of Directors. She is also on the Fashion Dept. Advisory Board for Austin Community College, where she teaches millinery.
Laura possesses over 20 years experience in fashion history, design, and construction and has worked as a milliner, but also as clothing and textile consultant and conservator, vintage dealer, retail manager, and theater costume designer. Hat-making has been her full-time focus since 2012 and she enjoys making hats for clients around the world, as well as teaching both group and private millinery classes.
No followed people