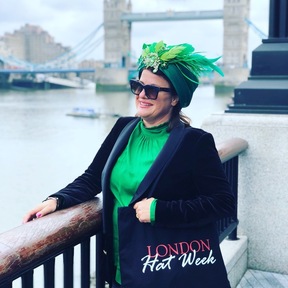 Hand crafted millinery and accessories by qualified milliner miss haidee .
Haidee has been making hats for close to 30 years , traditionally trained as a milliner she loves to travel and study new techniques.
Millinery has traditional roots but is ever changing in new ways using medical supplies and new materials to help create larger lighter headpieces .
As an award winning Australia milliner she is not afraid of colour and larger constructions .
Trained in Visual artist University and Millinery at TAFE along with maintaining designing and creating her own fashion label
Millinery has all these things fashion ,design and it combines her love of horse racing
Her family breeds race horses in Scone NSW Australia and a few have travelled to the UK to race.
We have had a few wins on OAKs day and The Championships .
It also houses retired race horses who are LOVED they have mountains and acres of lush NSW paddocks to roam.
Millinery is her perfect artistic expression
CUSTOM orders very welcome I love dead line ad a challenge . No one has been disappointed and usually get hugged .
If you would like the elastic to match your hair colour please ask.
Each piece arrives in a beautiful hat box
No followed people