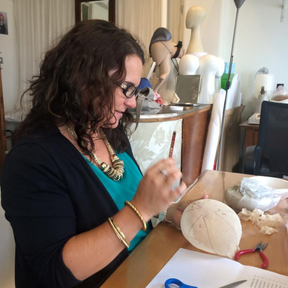 I had always loved watching the Horse racing fashions on TV when I was a kid and admired the ladies and their styles as it was such a far cry from my little outback home town.
My family and I moved to a cattle station in 2014 and the social highlight of the year was the local country races, they were great! A real family event where everyone attended and the ladies swapped their jeans and boots for stunning outfits and Millinery. That was it I was hooked but I had one problem "A champagne taste on a beer budget". All the hats that I loved were way over my budget, so being a crafty person (thanks to my Nana) I bought a base already made then covered it in fabric and put a swirl and quill on it, made a clutch to match and voila racing ready.
I then did this for a few race meetings and managed to win FOTF so I desperately longed to learn the real way of making millinery.
I booked my place and did a week long intensive summer school with master milliner Louise MacDonald and got 'the millinery bug'. My business was growing rapidly whilst juggling 4 kids, living and working on a cattle station and home schooling, I was taking on too much.
I had a much deserved break for a year and closed my store and facebook account but I kept making a few pieces just for myself.
I have started back fresh with new designs and my love for Millinery grows stronger everyday. Since then my small business has flourished into a great online business and posts to all over Australia and Other Countries.
I have and still continue to over the years learn from the best Milliners in the world, Waltraud Reiner, Rebecca Share, Love Lotus, Phillip Rhodes and Rose Hudson to name a few.
There are so many people making hats these days, and so many influences, lots using the same suppliers of materials and blocks, I think you just need to have your own style, be unique and do it well and you will stand out from the rest.
I know that my Neigh-Dees appreciate my work and style and I know that they can too feel confident and unique when they wear Neigh. Renae xx
No followed people