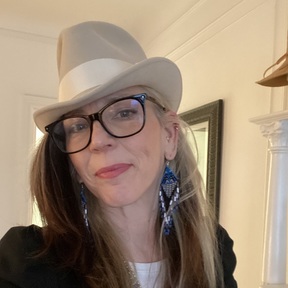 As a hat lover I do have the best of both worlds. I get to wear them and make them. And I love making them!
When I was in Spain some time ago, I stumbled upon a milliner's studio and became obsessed with the idea of making hats. Luckily enough, I happened to be living in Hamburg, Germany at the time. Soon I immersed myself in Millinery courses at the London School of Fashion, and private lessons with Chlöe Scrivener (who started her career working with the former Queen's Milliner, Philip Somerville and Philip Treacy). Soon after, I worked as the "American Apprentice" in Hamburg, Germany to Ulla Machalett. She has and is still an invaluable influence on me with her precision, and techniques.
When I returned to Brooklyn, New York, where I currently live, I started my line, Marine & Deerfield. I also have had the luck to work with Julia Knox of East Village Hats, learning more about the business of Hat Making, and meeting in person with all sorts of Hat Lovers.
I design and make each hat individually, LOVINGLY, using the traditional millinery and couture techniques I learned during those days in Europe. All of my hats are hand blocked with vintage or specially made blocks and using the finest straws and felts collected on my trips to Florence, London, Hamburg and Prague - and now NYC. Many of my vintage straws and felt hats are shaped completely by hand, which gives the hats a unique, one of a kind look.
Nothing gives me more pleasure than seeing the smile on a customers face when they try on their new hat.
-Suzanne Warfield, Milliner and Hat Maker, Marine & Deerfield
No followed people