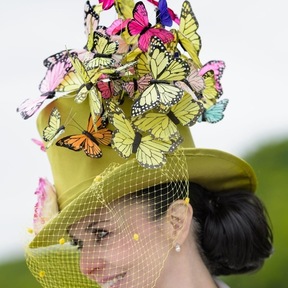 Tiffany Arey has had a lifelong interest in fashion, art, design, theater and costuming and was drawn to wearing hats from a young age, but it was her activity in the horse world that led her to the art of millinery in 2011.
Primarily self-taught, she has benefited from the tutelage of internationally-renowned milliners and her skills include traditional hat making techniques using wooden blocks as well as the ability to incorporate cutting-edge millinery materials into her designs. Her hats and headpieces have been multi-year winners at the Devon Horse Show, Dressage at Devon Ladies Day, Radnor Hunt Races and Fair Hill Races in the United States, and have adorned the heads of race goers at the Kentucky Derby, Preakness Stakes, the Belmont Stakes, Royal Ascot in the U.K., and the Melbourne Cup in Australia. Her hats have also been featured in annual fashion editorials in "Main Line Today", "Delaware Today", and "The Hunt" magazines. Upcoming projects include a collaboration with couture artist Shawn Pinckney and her work will be featured in a fashion gala and exhibition at the Delaware Contemporary museum in Wilmington, Delaware.
She finds inspiration in both the natural and man-made world and enjoys creating traditionally styled hats as well as more contemporary, whimsical pieces. Many of her hats include lush arrangements of hand-tooled flowers or trimmings that convey a sense of movement and are frequently described by others as "wearable works of art".
She currently resides in the scenic hills of Berks County, Pennsylvania with her husband and dogs, Gretchen and Ella, who are her frequent studio companions.
No followed people