For the first time in its history, the Royal Ascot will go ahead behind closed doors. 
We have not been strangers to the virtual FOTF competitions that have taken place across the country, with ladies and men raiding their wardrobes to create new looks and taking photos from the comfort and safety of their own homes.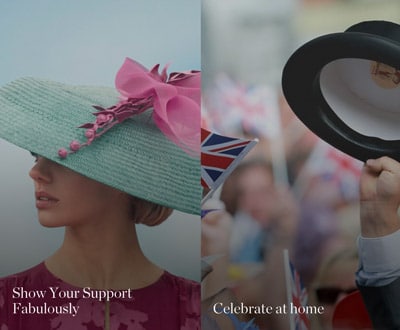 This year the Royal Ascot is not only hosting its own Fashion competition, but also a charity millinery auction, showcasing the work of some of the top milliners from around the UK. 
What an exciting exhibition of hats and unique craftsmanship from so many different milliners, giving them (and us) something to look forward to and be a part of, in a time which would usually be the busiest time of their work calendars.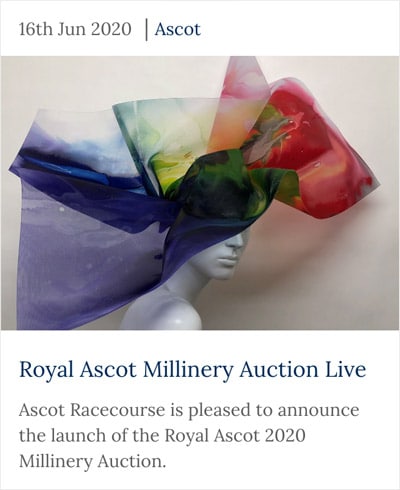 One of the 44 chosen milliners is someone we are quite familiar with over here in Australia, Ana Pribylova from Ana Bella Millinery. 
Ana often jetsets to Australia for Spring Carnival to enter in the Myer Millinery Competition, which she has been a finalist for three years running. Her signature mirrored headpieces are always a showstopper and grab a lot of attention from the crowds.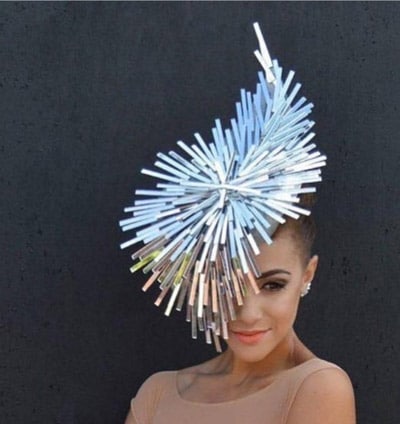 Ana has also won three consecutive titles at the Dubai World Cup for her Millinery and elegant style.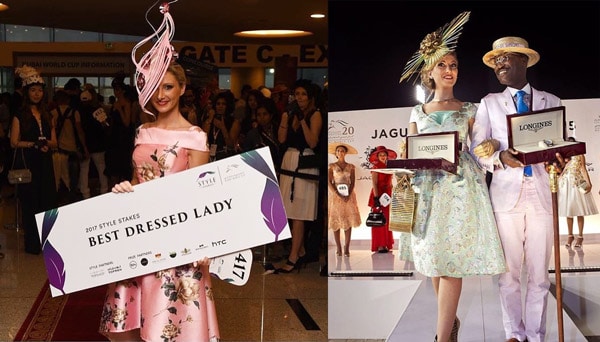 Ana has been kind enough to tell us a little bit about the Royal Ascot Millinery Auction and share some behind the scenes details about her magnificent rainbow mirrored hat!
Tell me about the Royal Ascot Millinery Auction?
Royal Ascot Racecourse and the British Hat Guild, spearheaded by the legendary Stephen Jones OBE, have invited leading milliners in the UK to create a bespoke hat or headpiece featuring a rainbow theme, in-line with the nation's use of rainbows to thank the NHS (similar to Medicare medical system in Australia) and frontline workers.
Royal Ascot (Tuesday 16th to Saturday 20th June 2020‬) will take place behind closed doors for the first time in the event's history due to Covid-19 Pandemic.
In recognition of those working on the frontline of the global Covid-19 crisis, Royal Ascot has launched the #StyledWithThanks charity appeal, and part of this campaign, is a Millinery auction, where hats and headpieces in rainbow colours have been donated by Milliners. Hats will be auctioned online throughout the week of 'Royal Ascot At Home' with all money raised being added to the charity fund.
The auction begins at 9am Tuesday 16th June 2020‬. To find out more information on how you can bid, check out the Terms and conditions. To go straight to the Millinery auction and check out the hats on offer, visit https://fundraising-auctions.bid/auction/ascot/styledwiththanks/
Where did your design inspiration come from? Were you tossing up between a few designs or was this hat the plan from the start?
This year I was chosen to showcase my millinery in the Royal Ascot Style guide 2020, one of which was the silver halo mirror piece. The guide was released, and at that point I think it was two weeks before the world went into pandemic lock down- well the UK did. It was a bit unclear if Royal Ascot was to go ahead, and I know it saddened so many as it's always such a spectacular event to showcase hats and fashion.
After cancelling the event for the public, Royal Ascot asked me to be part of the first Royal Ascot Millinery Auction for Charity, with a rainbow theme hat design. Instantly I thought the original silver piece which was showcased in the Style Guide, lent itself to a rainbow shape, perfect!  So I thought this was a great opportunity to take advantage of using so many wonderful colours in this design-  something I would have never done before.
How long did it take to make this hat?
It took about 3 days, between cutting over 200 mirror pieces, waiting for glue to cure and also making the base shape of the hat, I also sculpted the hat block which the halo was made on.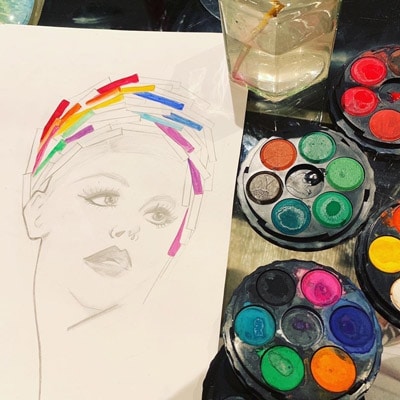 What was involved in making the hat?
I had to make sure before I started that I was able to get all the materials for the rainbow halo I had envisioned, especially the different colours of glass- that was going to be a challenge. Because of the pandemic, getting materials had longer postage times.
Royal Ascot had only given us a week to make the hat, and then another week to get the hat photographed- so when you're in isolation, you have to become all parts of the band, milliner, photographer, lighting expert all while working from home… and the clock was ticking.
I quickly realised a week was not long enough for any glass to be ordered, so I went on the hunt for all the colours of the rainbow from previous projects in my studio…lucky I hardly throw anything away, who knew that I had so many colours of the rainbow glass in my own studio!!! phew!!!!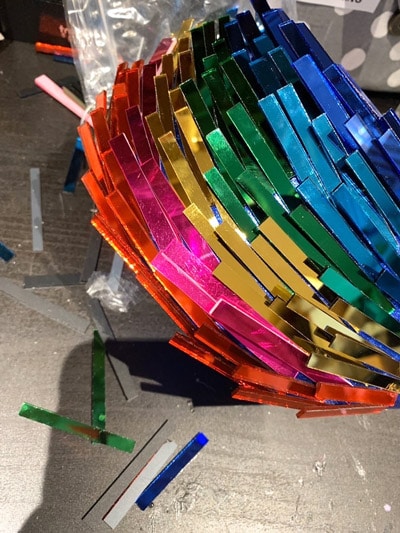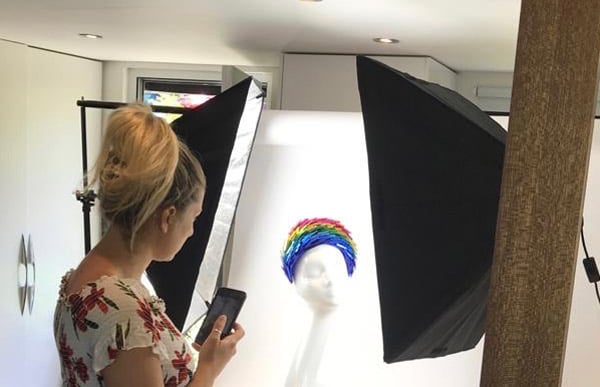 So then I got on with cutting the mirror pieces for the halo, over 200 of them, shaping/making the base over my handmade halo hat block, covering the base in cobalt/neon blue, and then arranging the colours of mirrors on it to make the rainbow.
I have never worked with so many colours before, normally my pieces are made in monochrome, so the pattern of how I laid each mirror piece down was different. It is a time consuming piece to make, but the satisfaction in the end is so worth it, it casts the prettiest of mirror coloured sparkles, and always makes me smile- it's also easy to wear, being a halo it's so comfortable.
How has the Royal Ascot going ahead behind closed doors affected you as a milliner?
Initially I thought that the event was going to be cancelled all together. I didn't think that the world, and the UK would have gone into complete isolation for about 3 months…  I was truly saddened because Royal Ascot is a highlight on any racing fashion enthusiasts calendar as well as it's the busiest time of year, in the UK for milliners, so my order book was totally bare.
But Royal Ascot and their marketing team have really, in a very short amount of time – about two or three months, been able to put some amazing fashion features together, like the #styledwiththanks campaign competition and the millinery auction. It's given milliners, and attendees something to look forward to during isolation, and also put some orders back on my books!
So for me, it's made me happy that we can still all take part of the fashion again…But I realize it must have been quite a feat, normally I assume planning for each Royal Ascot would take all year- so- congratulations, and thanks for giving us a little of our Royal Ascot fashion experience back. 
Personally for my millinery business, during the pandemic, and all the cancelled events, weddings and orders, the silver lining  is that I have been able to concentrate on getting my website ready for a new hire collection, as well as clean my studio… that really needed to happen… it also helped me find all those rainbow pieces of glass too!
I am hopeful for the future, and I'm sure racing fashion won't change, ladies always want to be fabulous and stylish whether at home or at the track, you can't stop us flaunting a great hat and beautiful outfits, even if it's from home. Take care- and enjoy the first ever Royal Ascot millinery auction.

Ana- Milliner Ana Bella Millinery
Leave a Comment...